There is a party going on, all around us, where God is inviting us to stumble on in and enjoy. When we are attentive to the music, it grows depth in our mental health.
So I am just back from a holiday in Italy and Spain for a holiday. My wife had won one of those competitions of free air flights etc … So off we went to see some amazing places and have some rest and relaxation.
What I wasn't expecting was the invitation to a party going on.
Confirmation Party
We were staying in a little town called Alba. One night as we went down to the dining room of our hotel for our evening meal we could hear a lot of noise. People were talking, and a child was squealing with delight.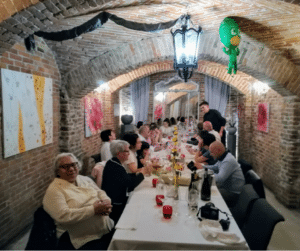 At the bottom of the steps of the renovated wine cellar/ cheese room, we could see the tables had. Around them was an Italian family of twenty all in high joy and celebration.
The restaurateur had kept a table aside for us as we had made reservations many months in advance. So we had a spectator view of a party going on.
We asked our waitress what was being celebrated and she told us that the young lady at the head of the table had just been confirmed that day.
When we finished our meal, we asked our waitress to share our thanks for allowing us to be part of this celebration. She did, in more words and flamboyance than I had said, and they thanked us for being there.
There's a party going on and you're invited.
German tourists
The next day we decided to go to a training school for dogs who sniff out the truffle. We weren't too sure where to go so we stumbled through this door to discover a busload of German tourists gathered around an abundant table of red wine, local cheeses, and pieces of bread. They welcomed us, and we felt at home.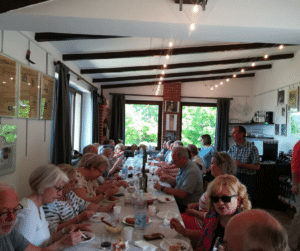 There is a party going on and you're invited.
The Angel going to Alba
We had just finished a long hot walk to a little town called Nieve. It was getting late in the afternoon, and we didn't know how we would get back to the hotel.
A woman was walking up the hill, and we asked her when the next bus would come. She only spoke Italian so she couldn't help us. We thanked her and off she walked. Five minutes later she returned in her car with her daughter who spoke a little English. 'We are going to Alba; we can take you.'
I wondered if angels drove Audi's.
There's a party going on and you're invited.
We saw some fantastic cathedrals, grand palaces, old castles but none of them matched the joy hidden within the generous relationships offered.
As we walked and talked, this little phrase kept dancing through my thinking. There's a party going on and you're invited.
A couple of quotes.
The most stunning and staggering truth God has given to me in His Word can be summed up, perhaps a bit simplistically but I hope not irrelevantly, in two short sentences. One, God is a party happening. Two, I'm invited to the party. Larry Crabb – Real Church
When there was only God, the Eternal Community was having fun. Their purpose in creating people was to invite us to the party. As C.S. Lewis put it, the serious business of heaven is joy. Larry Crabb
How do we stumble into the party going on
We listen for the music
It might be the smile on a face, the beauty of a flower, the hearty laugh of an old friend.
We prayerfully ask God to keep us awake and aware of what is going on around us. We listen for the rhythms of joy whispering an invite.The spiritual life is, first of all, a matter of keeping awake. Thomas Merton
We tap our feet to the music.
You've noticed it, and something has stirred within. A mixture of fear and curious delight.
You seem to be pulled ever so gently on to the dance floor. Feels good, but also there is some fear, so you tap your feet for a while.
Beginners always start here and that's OK.
We throw ourselves into the dance.
A reckless abandonment wells up, and you throw yourself into the joy. You may hear critical voices from the sideline wanting to hold you back.Perhaps they have not yet heard the music. You step out and join in.It's a party for prodigals and the only way in is to shed some of the old fear based self-protective armor that makes dance awkward.
We give thanks.
We give thanks. Our cup has been refilled ever so slightly.
Time must be given for internal reflection and gratitude.
We begin to listen once again.
You start again to listen and watch for the bird that sings and the brook that babbles.
You begin to notice the parties going on all around you. You begin to tap your feet, and who knows where this party might take you.
I wonder what would happen in our mental health if we consciously looked for God's party going on. We might begin to see God beyond the confines of a Sunday service, a building, and a program.
We might begin to party it up with the likes of C.S. Lewis who considered God as a kind of a dance.
We might relax more in the present moment knowing that God is with us always.
Read further
Quotes to consider
Perhaps the most important difference between Christianity and all other religions: that in Christianity God is not a static thing—not even a person—but a dynamic, pulsating activity, a life, almost a kind of drama. Almost, if you will not think me irreverent, a kind of dance. C.S. Lewis
The spiritual journey can be understood as the movement from seeing God nowhere, or seeing God only where we expect to see him, to seeing God everywhere, especially where we least expect him. Ruth Haley Barton
We cannot attain the presence of God. We're already totally in the presence of God. What's absent is awareness. David G. Benner
Questions to answer
What other examples can you think of parties going on?
What stops you from joining in?
Barry Pearman
Image cc: Levi Guzman