Does God hate Me or Does God love me? What you think about God will form the patterns of your thinking and life.
Oh, that my heart might know a new reassurance.
Recently in my conversations with people, I have been giving them three little phrases to meditate on and speak into themselves.
I am loved
I am held
I am known.
When the anxiety starts to build, and the depression starts to drown, these are phrases that can quietly bring peace.
It's the love of compassion for our hurting self, the being held while emotional storms rage, and it's the being known fully despite all the flaws.
It's what I hope a good friend can offer, but it's also what God in full glory speaks to us. You are loved, you are held, you are known.
In our last post, we looked at the question Does God hate me? and I suggested 12 questions that I would have running in the back of my mind if someone had that question.
Does God Hate me?
When someone asks that question or speaks a conclusive 'God hates me' into the universe, I often hear a level of pain under the surface.
Perhaps there have been multiple traumas and intrusions laid upon the soul.
This is not so much an intellectual question looking for academic and theoretical responses. More so this is a question of the heart.
Yet so often, this question gets answered with the intellectual.
Verses are quoted, arguments are laid out, different theologies are discussed. All of which I could do here, but none of these, I believe, would come to answer the cry of the hurting heart. The heart that needs to know in a very real way that it is loved, held and known.
The verses, arguments, theologies, etc. can help but at a heart level, we want to be known as ones that are loved.
Here are some verses for you to consider.
Does God Love Me?
At the time of writing (January 2022), there are 2200 searches made each month on Google asking, 'Does God love me? The phrase 'God hates me' is searched for 1900 times each month.
There is a heart cry there. We want to know if we're loved that we have value and purpose. That there is beauty and we're not invisible.
In our broken world existence, we need the reassurance of eternity shouting a big 'I love you' across the skies and seeing it trickle into our hearts.
For me, I want to tell more people that both I and God love them. They need to hear it.
But when we say the words 'I love you' they can be so easily misconstrued.
When I say the words 'I love you' to someone its because I see something of the nature and character of a loving God in them. This needs to be celebrated and explored.
Something of the God nature in me has to burst out the words 'I love you.'
In his book Connecting, Larry Crabb tells the story of an encounter that he experienced with author Brennan Manning.
When I know that you love me, that you believe in me, that you recognize something terrific in me that you long to see more released, I'm more inclined to receive you, to let you pour into my life.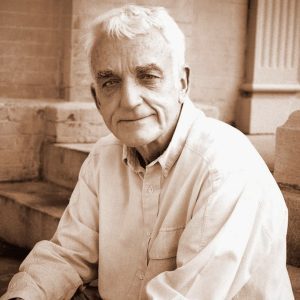 That's what happened in a conversation with Brennan Manning.
Some time ago, I had opportunity to chat with Brennan, my friend, and writer of profound books on the spiritual life.
During our conversation, I impulsively blurted out, "Brennan, I want time with you to talk seriously about something in my life. I need your help."
Always gracious, Brennan immediately agreed. I later wondered what had triggered that unplanned spontaneous request.
It's true that I was plagued by a certain internal battle and that I deeply respect and love Brennan, but I hadn't intended to ask him for help. The request simply appeared.
As I reflected further, two memories returned.
Several years earlier, Brennan had told me of his spiritual director's curious habit. Whenever he saw Brennan after an extended absence, he jumped up and down with delight.
I remember smiling. I pictured an elderly gentleman walking down a deserted beach toward an agreed-upon meeting point and, spotting Brennan from a distance, hopping three or four times. The image amused me. It also drew me.
A year later, my wife Rachel and I tumbled out of a crowded elevator into a hotel lobby teeming with conference participants.
Across the way, I caught a glimpse of Brennan's white hair and unmistakable smile.
As I leaned toward Rachel to tell her I had just seen Brennan, he turned and saw us. Immediately, he jumped up and down. I was warmed to the bottom of my heart. Larry Crabb, Connecting.
God jumps up and down with excitement and joy when we come towards them.
I was talking with someone the other day for the first time and I was filled with 'jumping up and down' joy as I got to know them.
I want to be the kind of person that 'jumps up and down' when I meet someone. Will it freak them out? I hope so but in a good way!
We are to be people who rush towards each other's prodigal woundedness with old man passion and motherly tenderness. We are to see beyond the problems to the beauty and purpose sown deep within each other, eternities ago.
Perhaps then others will know something of God's love for them. Jumping up and down will cut through the head knowledge and fill the heart's vacuum.
Moving forward to knowing love
In response to the questions from part one, here are some suggestions to shift from the 'Does God hate me?' to the knowing God loves me. I want to know Gods love for me and you in overwhelming tidal wave completeness.
Make a decision to open the heart.
Are you ready to receive love? Have you prayed to ask God to come into your heart and transform it from the inside out? God wants you to ask. God will never trample across our freedom to choose.
It's a heart decision that you have to make. Do you want the God who jumps up and down to come and dance in your life?
Get a better group of friends.
Seriously question if the religious organization (commonly called church) promotes a God that 'Jumps up and Down' or one that sits on a judge's rostrum or is distant and or aloof.
It might be that you have to leave. As the saying goes, 'Birds of a feather gather together,' but do you have to be that kind of bird?
I want to have friends who will 'jump up and down' to me and I to them.
Understand that spiritual formation is a journey.
No one has 'arrived' yet.
We are all in different stages of spiritual formation, such as what James Fowler points to. This is ok, but we don't want to become stuck in one stage. Spirit (Holy) is always alluring and calling us on. It's a mystery. It's not a program or a formula, and there is no blueprint or roadmap. Maybe it's more a kind of a dance.
Get a better translation of the Bible.
Find a Bible that is in modern and, user-friendly language. Easy to understand. I use the New Revised Standard Version for study but recommend the New Living Bible and The Message for devotional reading.
Focus on Gods love and grace
Where you focus is where you will go.
Meditate on stories in the Bible that speak to the love and grace of God.
The story of the loving father
The story of the dehumanized man
Tell yourself the truth – I am loved, I am held, I am known
As part of your thinking compass, every day speak these words to yourself. Record yourself saying these words and listen to them.
Look for the movements
As you read Bible stories and as you reflect on them, look for the movements from Justice to Mercy to Grace. Notice the call in yourself to move from justice to mercy to grace. Realise that God is full of grace to you.
Quotes to consider
Love acts like a giant magnet that pulls out of us, like iron filings, every recorded injury, every scar. Terrence Real

Divine love is compassionate, tender, luminous, totally self-giving, seeking no reward, unifying everything. Thomas Keating

God is a lover, not a rapist. God cannot walk past an empty heart and do nothing. Larry Crabb
It is God's love for us that He not only gives us His Word but also lends us His ear. So it is His work that we do for our brother when we learn to listen to him. Dietrich Bonhoeffer
Questions to answer
What are the words your heart most wants to hear?
Wht would it be like to have someone 'jump up and down' in joy when they see you?
Are you open to love?
Further reading
Barry Pearman